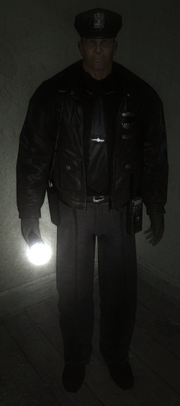 Officer Becker is a Metro City police officer appearing in Condemned: Criminal Origins. He is voiced by Peter Jacobs.
Condemned: Criminal Origins
Edit
In the game, he assists Ethan Thomas in his investigation at the Weisman Office Building, where a young woman was strangled by The Match Maker and posed with a male mannequin. He is the one who intially finds the body while on patrol and then assists Ethan and Detective Dickenson of the SCU in finding the crime scene.
When it is clear that someone else is on the premises, the trio split up. At the end of the level, when Ethan is attacked by Leland Vanhorn, Becker and Dickenson arrive to save Ethan, only to be shot and killed by Vanhorn using Ethan's handgun.