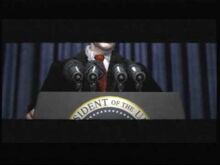 The President of the United States is a minor character that appears in Condemned 2: Bloodshot. He suffers an apparent heart attack after receiving a letter from the Oro that states "The remedy is among us!!!".
It appears that the president is an ex-member of the Oro, a current member of the Oro, or is against the Oro and knows about Ethan, hence the reason he has a heart attack.
The president is only seen in a cutscene at the end of the game.
Ad blocker interference detected!
Wikia is a free-to-use site that makes money from advertising. We have a modified experience for viewers using ad blockers

Wikia is not accessible if you've made further modifications. Remove the custom ad blocker rule(s) and the page will load as expected.