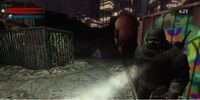 Vertigo
is a
Condemned 2: Bloodshot
multiplayer map. Set on a large suspension bridge just outside of
Metro City,
it is not based on any location seen in singleplayer. Deathmatch, Crime Scene, and Team Deathmatch games can be played here. The stage contains a large number of steel containers arranged in a maze-like fashion. The stage is mostly dark, with the main source of light coming from various objects that are on fire.
Multiplayer Modes
Edit
Deathmatch
Team Deathmatch
Crime Scene
Ad blocker interference detected!
Wikia is a free-to-use site that makes money from advertising. We have a modified experience for viewers using ad blockers

Wikia is not accessible if you've made further modifications. Remove the custom ad blocker rule(s) and the page will load as expected.